Wedding Rings UK | Titanium Jewellery UK | Titanium & Silver Inlay Rings
Silver Inlay Titanium Rings
Silver Inlay Ring Information -
Men's titanium wedding rings each inlayed with sterling silver (925) inlays to give a contrasting effect with the titanium.

The rings are also available in either a highly polished, or satin brushed finish which creates more of a contrast between the brushed titanium and silver.

Each titanium ring has the grooves lathed out, and the space then filled with the sterling silver inlay before being re lathed to create a level finish to the ring. A lot of work goes into making these silver inlay rings to make them look as fantastic as they do.

Due to the complexities of these designs they are not as customisable as other rings so we don't offer our gemstone setting service on these lines. We are however happy to engrave them with your own personalised message.

Our most popular silver inlay ring is the 9mm satin brushed ring which is very popular as a wedding ring.


TB!A,FT!GF,SX_ID!6,SX_IN!0,SX_1_66282_0!Silver%20Inlay,S_1_66282_0!,SO!8_1_6_0,FILTERPAGE!Silver-Inlay-Titanium-Rings.html,Action!Search
9mm Men's Silver Inlay Polished Titanium Wedding Ring
UK sizes N to Z+6
£54.95
5 reviews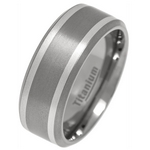 9mm Men's Silver Inlay Brushed Titanium Wedding Ring
UK sizes N to Z+6
£54.95
3 reviews
7mm Silver Inlay Titanium Court Wedding Ring
UK sizes N to Z+5
£44.95
5 reviews
Titanium Rings with Silver Inlays
Our
Silver Inlay Titanium Rings
have been rated
10

out of

10
based upon more than
9
customer reviews.